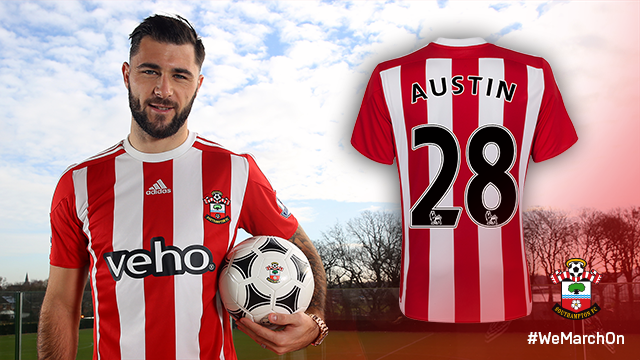 26 year old Charlie Austin has joined Saints on a 4½ year contract from Queens Park Rangers, for a reputed £4m. Given the rumours about his knee and the fact that he hasn't played since the middle of December because of a hamstring injury, it will come as some relief for Saints fans to hear that he passed his medical with no issues.
Austin scored 18 Premier League goals for QPR last season, but could not help them avoid relegation to the Championship.
Ronald Koeman was quoted on the BBC as saying, "He was our target for January. The number of goals he's scored in the Premier League is amazing." Although there have been rumours about various Saints forwards moving to other clubs, Koeman continued, "Nobody is for sale in January. At the end of the season, you don't know, but not now. We like to make the squad stronger. That means Charlie in, nobody out."
Charlie Austin's contract at Loftus Road was due to expire in the summer, but has scored 10 goals in 16 appearances so far this season. It had been thought that austin would allow his contract to run down and move as a free-agent in the summer.
Austin explained this, saying, "As soon as Southampton showed an interest that was the one club I wanted to go to."
All Saints fans will look forward to seeing Charlie's debut for Saints
Previous Club : QPR
Age : 26
Nationality : English
Saints win the last match of the season

In what was ultimately a party atmosphere, Saints qualified for the Europa League by finishing in 5th place, equal on points with Manchester United, but ahead on goal difference. That could change, with the Manchester United v AFC Bournemouth game abandoned. If ManU win, or draw the rearranged game, then Saints will finish 6th, which is still a Europa League qualifying place.

Heck of a way to end the season.

Saints won the Qualifying Round 3 against Vitesse 5-0 on aggregate.

In the Play Off Round Saints faced Danish Champions, Midtjylland. The first leg was played on Thursday 20th August at St.Mary's, ending in a 1-1 draw.

The decisive return match was on Thursday 27th August in Denmark, which ended in a poor 1-0 loss and ultimate exit from the competition.


Saints drew MKDons away on Wednesday 23rd September, which ended in a straightforward 6-0 win.

The next round was on Wednesday, 28th October at home to Aston Villa. This was a more comfortable win than the scoreline suggests

The final outing in this season's League Cup was at home when Saints were comprehensively thrashed by Liverpool


Well, that was short and not very sweet.

Saints faced Crystal Palace in the 3rd round of the 2015/16 FACup, but lost 1-2 on the day.

Saints signed nine players this season. Two on loan and seven on long term contracts. Read more about them by clicking the button.

Kelvin is retiring after being central to the club's rise through the divisions. Saints awarded him that rare thing these days, a testimonial which enabled him to have a great evening with current and past colleagues, while raising a lot of money for charity.